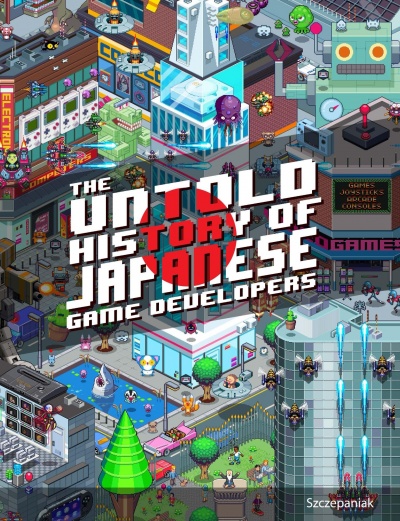 Автор:
John Szczepaniak
Дата выпуска:
2014, 2015
Volume 1
www.hardcoregaming101.net/japandvd/japandvd.htm
www.hardcoregaming101.net/books/the-untold-history-of-japanese-game-developers-volume-1/

This book reveals more secrets about the history of Japanese games than ever before, with 36 interviewees and exclusive archive photos. Konami's secret games console, the origin of Game Arts and Quintet, unusual events at Telenet, stories on Falcom, politics behind Enix's game programming contests, a tour of the Love-de-Lic and WARP offices (with layout sketches). Every interviewee is asked about unreleased titles. Foreword by GAMESIDE magazine's editor-in-chief, Yusaku Yamamoto.

INTERVIEWEES INCLUDE: Hitoshi YONEDA / Tatsuo NOMURA / Katsutoshi EGUCHI / Toru HIDAKA / Roy OZAKI / Kouichi YOTSUI / Masaaki KUKINO / Yoshitaka Murayama / Harry Inaba / Ryukushi07 / Kotaro UCHIKOSHI / ZUN / Yoshiro KIMURA / Kouji YOKOTA / Jun Nagashima / Yuzo KOSHIRO / Masamoto MORITA / Akira TAKIGUCHI / Masakuni MITSUHASHI / Kohei IKEDA / Hiroshi SUZUKI / Tomonori SUGIYAMA / Yutaka ISOKAWA / Yasuhito SAITO / Takaki KOBAYASHI / Keite ABE / Keiji INAFUNE / Makoto GOTO
Volume 2
Detailed contents listing here:
www.hardcoregaming101.net/books/the-untold-history-of-japanese-game-developers-volume-2/

Nearly 400 pages and over 30 interviews, with exclusive content on the history of Japanese games. The origins of Hudson, Masaya's epic robot sagas, Nintendo's funding of a PlayStation RTS, detailed history of Westone Entertainment, and a diverse range of unreleased games. Includes exclusive office layout maps, design documents, and archive photos.

In a world first — something no other journalist has dared examine — there's candid discussion on the involvement of Japan's yakuza in the industry.

Forewords by Retro Gamer founding editor Martyn Carroll and game history professor Martin Picard.